Restaurant: Oso on Paseo
Up until pretty recently, the only dining options in OKC's Paseo Arts District were the upscale Paseo Grill, the mid-tier Picasso Cafe and the late-night hot spot, Sauced—all fantastic restaurants, sure, but variety is the spice of life.
In the last year or so, the Paseo has rapidly expanded its offerings with vegan donut shop Holey Rollers, biscuit haven Buttermilk Southern Sliders, Scratch Kitchen & Cocktails and, as of last week, Oso on Paseo. Created by the same masterminds behind Picasso Cafe (they catered our wedding reception, FYI), Oso takes Mexican street food and elevates it to something special. The menu is super veggie-friendly with four vegetarian tacos, a vegan soup, vegan enchiladas and meatless nachos, burritos and quesadillas. Needless to say, I plan to work my way through it all.
Ed and I visited on Halloween night and I was instantly enamored with the space; Oso has the large bar-centric layout of Revolucion with the more relaxed, airy vibe of Barrios. We sat at the bar, as we usually do, and ordered a round of chips and salsa. You choose two salsas for $4, and the crew will bring you more chips free-of-charge if you need them.
I'm being 100% real with you when I say that these are two of the best salsas I've ever had. We ordered the Roja, a smoky, slightly spicy sensation, and the insanely fresh, tangy and bright Verde Crudo. We inhaled these salsas and gladly would've gone back for more (the homemade chips were top-notch, too).
Now for the main attraction—tacos! I shared with you in my post "7 Dishes That Died in Vain" about how bummed I was when Revolucion nixed their two veggies tacos, so I'm so glad there are some new options in town. I started with the Mushroom Taco which was topped with salsa roja, roasted corn, cotija and radish. I loved the little baby mushrooms in this taco and its overall rich, hearty flavors.
Next was the Cauliflower Picadillo Taco with green olives, onion, golden raisins, pepitas and cilantro (I ordered mine without tomatoes). Seriously, though, have you ever heard of a more interesting taco?? This one had great texture, and I loved the bitterness of the olives combined with the sweetness of the golden raisins.
Now for the downside…each taco was a whopping $4. Typically, vegetarian fare is a bit cheaper, but these were priced the same as the Chorizo and Carnitas Tacos. However, if you shell out $12, you receive any two tacos plus two sides. The sides are generously proportioned, and $12 for a filling meal is a decent price in my book. Moral of the story is that it makes more sense to go with the "meal deal" rather than to order the tacos individually.
So let's talk about those tasty sides. Ed ordered some street corn for us to share ($6 for a large bowl) and we were instantly obsessed. The corn is roasted, cut off the cob and topped with cotija cheese, chipotle crema and one surprising ingredient. If you're wondering what that red stuff on top is, that's crushed-up Takis Fuego, a rolled tortilla chip that tastes a lot like Flamin' Hot Cheetos. This was totally genius in my mind and gave the dish a fantastic crunchy kick.
For the sides for my tacos, I ordered the black beans (can't go wrong) and the slaw. The slaw was more of a vinegar-y version than your traditional coleslaw and had some red peppers and cilantro included. I added a scoop of slaw to both of my tacos and it totally sealed the deal.
I honestly can't wait to visit Oso again soon! Next time I'll probably try the other two vegetarian tacos—the Sweet Potato with black beans, crispy kale and avocado and the Nopales (cactus) with tomato, avocado, pickled onion and cotija.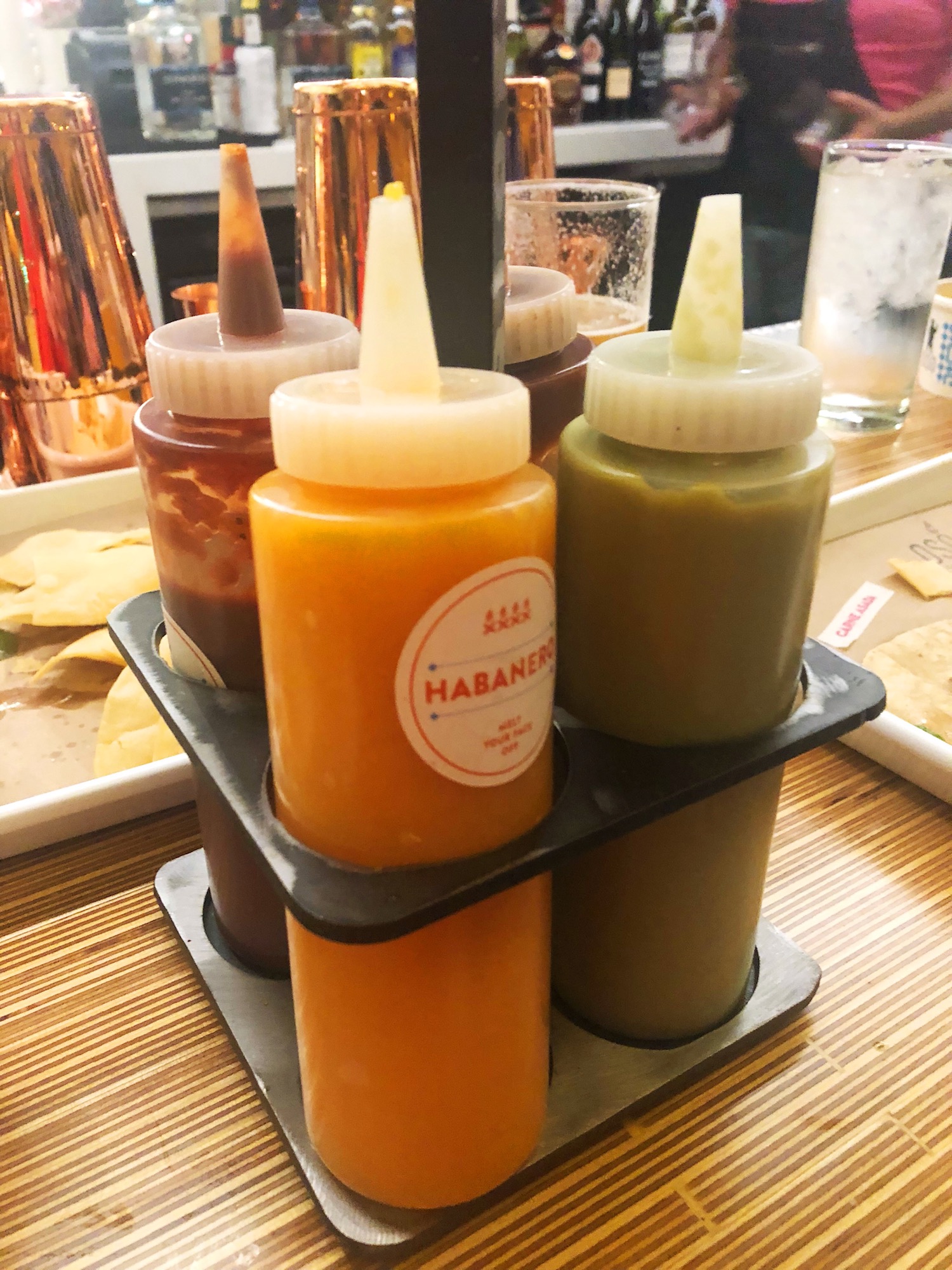 Oso's homemade sauces include Chili Arbol (love this one…tasted like a spicy ketchup), Habanero, Taquero and Serrano (the green one). They are seriously killing it with the salsa/sauce game! Definitely try all four.